Year 4 Pupil achieves Silver medal at ICF World Championships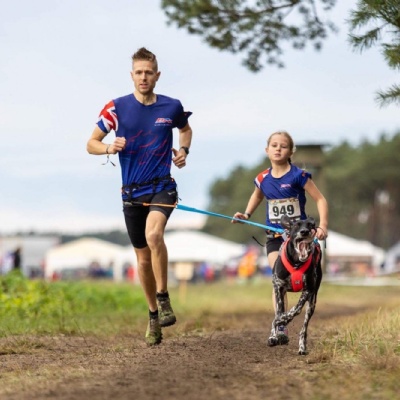 Amelia at Hunts Grove Primary Academy is the reigning British Campion in her category.
Amelia in Year 4 from Hunts Grove Primary Academy travelled to Leipa, Germany to compete in the ICF (International Canicross Federation) World Championships over two days of racing on 28 to 29 October, representing Great Britain as the reigning and two-time British Champion in the 'School Girls' (7 to 10) age category.
She raced on back-to-back days over a challenging muddy 1.2km trail with one of her family dogs, 'Marshall'. Sitting in third position overnight and despite falling during the race on day two, she picked herself up to continue and in the end was rewarded with a World Championship Silver medal, just 1.7s ahead of the Bronze medal position and only 2.8s behind the Gold. This was Amelia's first podium at this level after a 12th-place finish in the 2022 Championship on her International debut.
She will now turn her attention to defending her British title over two weekends in December/January and in doing so hopes to qualify to again represent GB at next year's World Championship scheduled for Italy in October 2024.
Glenn Philcox, Head of School, Hunts Grove Primary Academy