Holmleigh Park High School celebrates Ofsted success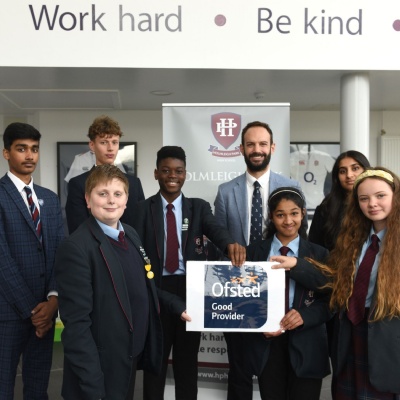 We are delighted to announce that Holmleigh Park High School has been judged as 'good' in all areas by Ofsted. This reflects the dedication, hard work, and commitment of the entire school community, from students and parents, to staff and governors.
Previously known as Beaufort Cooperative Academy, the school changed its name to Holmleigh Park in 2019, when it joined the Greenshaw Learning Trust. The school has been utterly transformed since. Students are kind and courteous, GCSE and A Level results have improved from some of the lowest in the country to well above national average, the school received the Association for Character Education's Quality Mark in early 2023, and the school now boasts a large waiting list for spaces.
The inspection took place on 11 and 12 October 2023 and the school has received the following judgements:
Quality of Education: Good
Behaviour and Attitudes: Good
Personal Development: Good
Leadership and Management: Good
Sixth-Form Provision: Good
Inspectors made the following key points in their report:
High expectations and positive environment: The school values of "work hard, be kind, take responsibility," create a positive atmosphere where students feel safe and disruptions are minimal. Relationships between staff and students are built on mutual respect and trust.
Tolerance and leadership: Students learn to be tolerant of others, and students, including sixth form students, actively take on leadership responsibilities, contributing to the school community as council representatives, house captains, charity ambassadors, and community volunteers.
Broad and ambitious curriculum: The school offers a broad and ambitious curriculum, with an increasing number of students studying the English Baccalaureate subjects at GCSE. Regular retrieval activities and revisiting of topics contribute to effective learning.
Emphasis on reading: Holmleigh Park High School places a high priority on reading, with each tutor group starting the day by sharing a book. The school supports even the weakest readers effectively, fostering confidence and a love for reading.
Safeguarding and inclusivity: The school identifies students with special educational needs and disabilities effectively, providing support through a 'nurture tutor group'. The arrangements for safeguarding are deemed effective.
The report can be read in full here.
Dan Hudson, Headteacher of Holmleigh Park High School, said: "We are so proud of the journey that Holmleigh Park High School has been on and it was very pleasing that Ofsted saw what we see every day, a fantastic school full of hard working students and committed staff. We remain focussed on supporting all of our students to achieve their full potential and look forward to them continuing to have a better chance of success here at HP."
Patrick Farmbrough, Headteacher from 2019 to 2023 and now GLT Assistant Director of Secondary Education, said: "I'm immensely proud of everyone at Holmleigh Park – students, staff and parents – for how hard they have worked together to transform this school. But I'm even more excited to know that it is a school which is always looking to the future, and will only continue to improve over the coming years."
GLT CEO Will Smith expressed immense pride in the school's success, saying: "This Ofsted rating is testament to the collective efforts of the entire school community. It reflects the high expectations set for students and the dedication of staff to providing a safe, nurturing, and academically enriching environment."