Nursery refurbishment at Crown Wood Primary School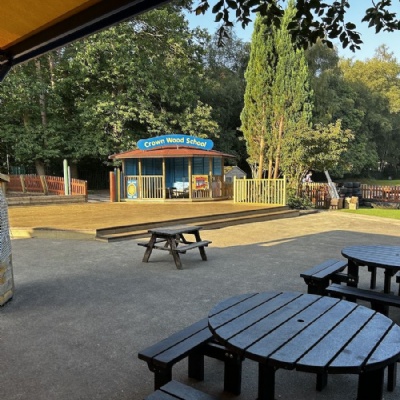 Please enter an introduction for your news story here.
After May half term, the Nursery class at Crown Wood Primary School went on an adventure to the school hall. While they were away, their nursery space underwent a transformation. Walls were knocked down, new walls built and decorated, and we saw the installation of a kitchen, toilets, an accessible toilet and new flooring.
After a reconfiguration of the old toilets and part of the old library, the Reception children also had new toilet facilities installed. Their old kitchen was replaced and new flooring to their shared area was laid. Outside, their old decking was replaced and they are due to have a wet pour surface installed at October half term.
The old library has also been converted into two new meeting spaces and has become a new entrance to Foundation Stage. These rooms will be used for music, therapy, training and meetings. The library was moved a short distance away to what was a curriculum store and meeting room. It is now a much brighter space for children to spend time in.
Finally, we had some new wall wraps installed to celebrate diversity, inclusion and some of our school values.
It was great to see the children's faces when they returned last month and children, staff and visitors benefiting from the newly refurbished spaces.
Caroline Winchcombe, Deputy Head Teacher, Crown Wood Primary School