SUCCESS FOR KEY STAGE 5 STUDENTS ACROSS THE TRUST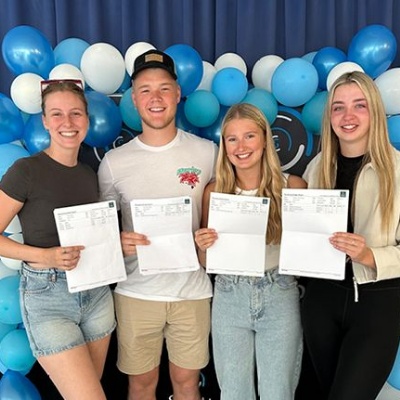 Across Greenshaw Learning Trust, students and staff in our seven post-16 provisions are receiving and celebrating outstanding results.
These grades are the culmination of much hard work and dedication and will allow students to pursue further education, apprenticeships, employment, or other opportunities.
It is worth noting that this cohort faced more disruption than any other group from Covid-19 with the cancellation of their GCSE examinations and therefore, should feel an even greater sense of pride with what they have achieved.

We must also acknowledge and congratulate Park House School specifically who celebrated their first set of results since joining GLT. The average grade improved from a C to a B and their students achieved 53% A*-B (up by 15%) and 80% A*-C.
Izzy Ambrose, Director of Secondary Education, says: "We are thrilled that the hard work and commitment of our students, staff and parents has resulted in excellent results across our schools. It is testament to the hard work of all of our teachers and support staff that our students have today been awarded results that will lead to first choice university or college placements and in most cases high-quality apprenticeships and employment. We believe that there is no ceiling on what our students can achieve now and in the future. We congratulate all of our students and their families and wish them well for the next phase of their learning journey."

We extend our thanks and heartfelt congratulations to all staff and students involved in KS5 results day and wish the young people leaving GLT the very best for the future.
For further details, please see individual school websites by following these links: