Crown Wood celebrates its 40th anniversary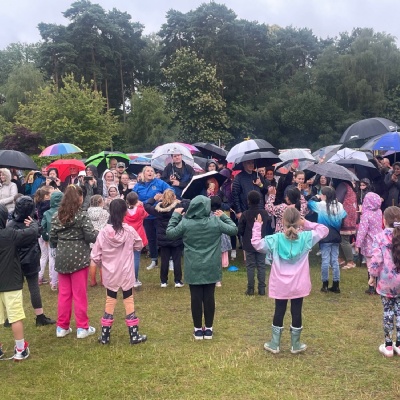 The rain didn't dampen the celebrations.
On Friday 14 July, hundreds of parents and children joined staff and invited guests to celebrate Crown Wood Primary School's 40th anniversary. Despite the heavy rain, there was a festival atmosphere with children performing songs from the 1980s to the 2020s and sharing a timeline of significant national and international events that happened during the schools four-decade history.
Invited guests included previous headteachers Howard Gillings and Antoinette Butler-Willis, former long serving staff members, Gill Greenaway and Carol Stocker, and Cllr. Mary Temperton, Leader of Bracknell Forest Council.
As well as the children's performances, there were fun fair rides and stalls, a display of photographs and other memorabilia from the school's past and a birthday cake competition. Food, including a BBQ, hog roast and ice-cream, was also available along with a selection of soft drinks provided by the Crown Wood Community Bar. The event ended with a raffle with prizes donated from a wide range of local businesses.
One parent attending the event said: "It really was a fantastic evening, despite the weather! So much hard work went it in to the organisation and it was wonderful to see the children performing too. It was also so lovely to see so many of the teachers involved with the 40th celebrations and a strong sense of morale within the school team."
Crown Wood Primary School opened in 1982 as a single form entry school and has subsequently expanded to having three classes per year group. This included an extension to the original building, completed in 2014, adding 12 new classrooms and a larger nursery. The school continues to change and building work this year will see the nursery expand to 52 places from September, improved toilet facilities in nursery and reception and more space for music tuition, group work and meetings.
The school became an academy within the Greenshaw Learning Trust (GLT) on 1 June 2017. In November 2021, the school received its first ever 'good' judgement from Ofsted.
The school's vision is, "to be the school of choice at the heart of our community where children develop as confident, caring citizens able to discover their potential and embrace the opportunities life brings" while its values are: determination, responsibility, everyone together, aspiration and achievement and mutual respect – and the children are reminded to 'dare to dream'.
Acting co-headteachers, Susan Thomas and Caroline Winchcombe said: "It was fantastic to see so many parents come out in the rain and support the children and staff. The children sang, danced and spoke fantastically. We would like to thank everyone who helped to make today happen. Everyone demonstrated our school's values. It was definitely an event to remember. "
On behalf of the wider Trust, Grant Strudley, GLT (Interim) Assistant Director of Primary Education, said: "Huge congratulations to the children, parents and staff of Crown Wood Primary School on the school's 40th birthday. They are to be commended for putting on such a wonderful event. The show of support from parents and the local community, despite the weather, was fantastic to see. We are proud to have Crown Wood as one of our family of schools and look forward to seeing what's next in their history."