Greenshaw High School Rebuilding Project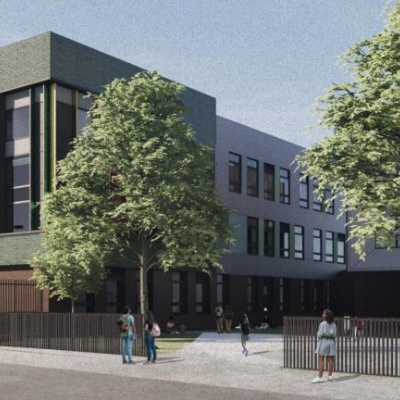 This exciting new project is now taking shape.
The Greenshaw Learning Trust was successfully accepted into the school rebuilding programme in 2021 on behalf of Greenshaw High School and the project is now taking shape.
Greenshaw High School was originally designed for 590 children and 34 staff in the late 1960s. Over the years, it has expanded to meet local needs and now hosts 1900 students and 250 staff members. A school of this size should have 100,000 m2 of space but it currently has 27,000 m2, with much of the footprint covered in buildings. This project will demolish 70% of the buildings on site and replace them with three storey purpose built accommodation, making more effective use of the footprint of the school and creating usable outdoor space.
Nick House, Headteacher at Greenshaw High School said: "It would cost tens of millions of pounds to be able to create the kind of site that I believe our students and staff deserve but Greenshaw High School has been identified as part of the national Department for Education's School Rebuilding Programme. This means there is the chance of being part of a major overhaul of our site, funded directly through central government, not from school funds. This gives us the possibility of the best of both worlds: talented and hard-working people in an up to date and aspirational setting.
"More details will follow over the coming months. We have an appointed contractor and fully conceived designs and we are now entering a public consultation phase before the project is presented for planning permission to Sutton Council's planning committee."
To subscribe to email updates about the regeneration plans for Greenshaw High School contact info@greenshawhighplans.co.uk, or use the website www.greenshawhighplans.co.uk
You can view the flythrough video of the site below.