News from our secondary schools
Blaise High School – a Bristol City School of Sanctuary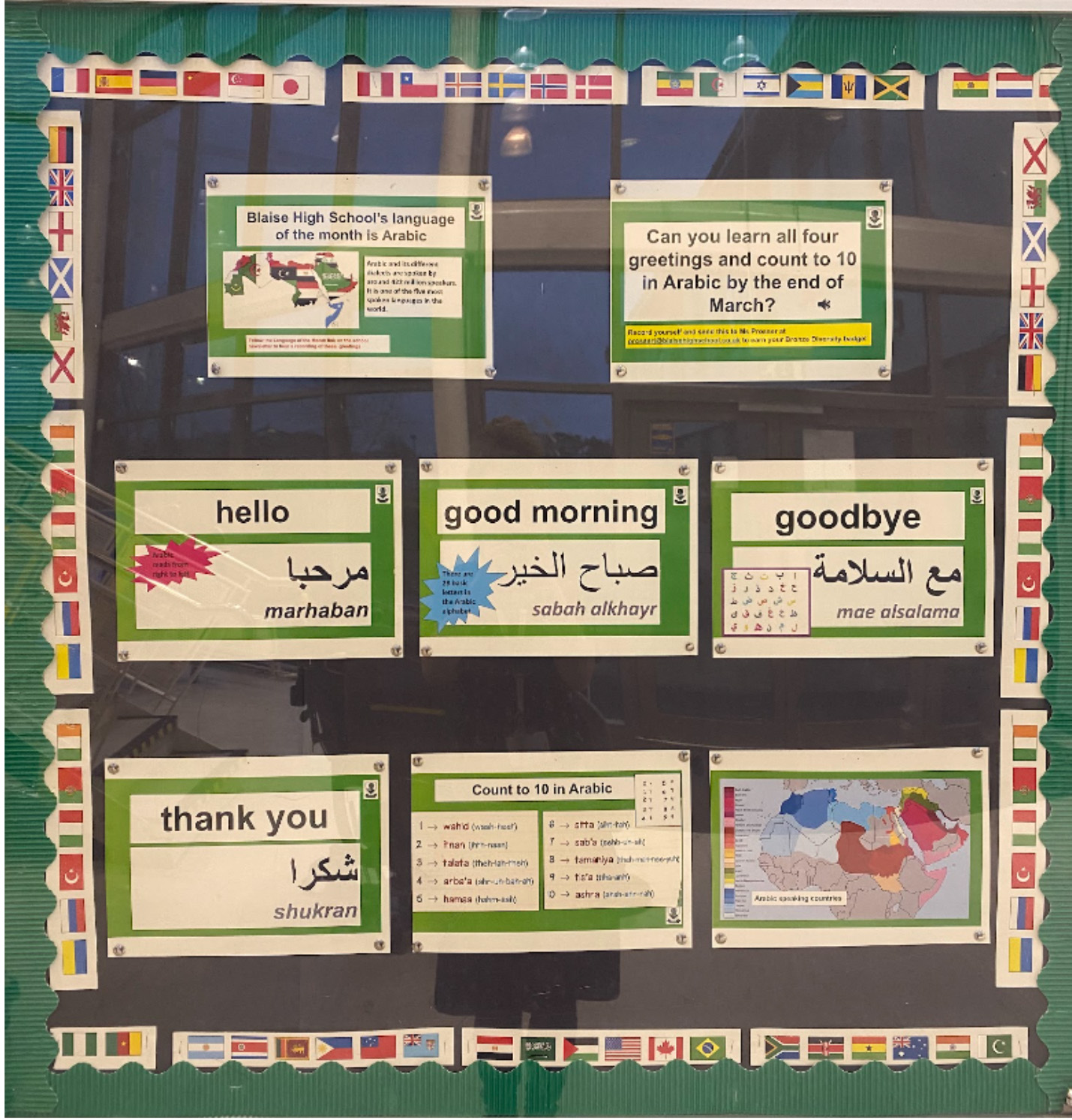 School of Sanctuary is a national network of over 300 primary and secondary schools committed to creating a culture of welcome and inclusion for refugees and people seeking asylum.
Driven by teachers, school staff, parents, governors and community groups, this network supports the thousands of young people seeking sanctuary in the UK, raises awareness of the issues facing people in the asylum system, challenges misconceptions and builds social cohesion.
We are extremely proud that Blaise High School has been awarded School of Sanctuary Status by empowering EAL students to achieve their full potential, promoting equality of opportunity, and delivering a broad and balanced curriculum. We ensure that all students feel welcome, safe and valued, and able to fulfil their ambitions.
To achieve this vision, we celebrate the multilingualism of our students and find opportunities in the curriculum, displays and in extracurricular events to recognise the importance of speaking different languages. We recognise that it is important for EAL students to be proud of their first language and to be given opportunities to continue to use it to support their learning. Each month we celebrate a different home language with a display in our atrium and video that is shared with students. We celebrate Refugee Week with student led assemblies and are looking forward to attending the Bristol City of Sanctuary's 'Show Your Heart' event, a flotilla and procession to demonstrate the city of Bristol's support for a compassionate and forward-looking approach to people seeking sanctuary in our city.
We ensure that students with EAL are assessed as soon as they arrive in the school and receive the appropriate support in the school to acquire the English language skills they need to fully access the curriculum as quickly and effectively as possible.
We recognise that the Equality Act 2010 places obligations on the school not to discriminate on grounds of any protected characteristics, and to promote good relations between students from different backgrounds. We want students with EAL to be able to take a full part in the life of the school and to feel included in the classroom and in all day-to-day activities.
School of Sanctuary wrote in their Bristol School and Colleges of Sanctuary Newsletter:
Congratulations to Blaise High School on this award. They had done a phenomenal amount of work developing their EAL Policy and practice, and in particular providing a welcome for refugee students on the Resettlement Scheme. They undertook a staff survey on awareness of refugee issues, and their EAL Coordinator worked with teaching staff to develop an excellent KS3 Science project with a video, developing resources for scaffolded EAL learning, which were shared, and then a similar process started with other curriculum areas. They invited in Forward Maisokwadzo from City of Sanctuary to speak with their Student Council, started a Young Interpreters' scheme and celebrated Mother Languages Day, and are now moving forward with a comprehensive action plan developed by an active staff group and a link governor who will ensure that the work is embedded as part of strategic planning going forward.
The BCOS appraisal panel said that: "The school is demonstrating that there is a lot of work going into creating a culture of welcome for children from sanctuary seeking backgrounds. There also appears to be high aspirations to improve educational outcomes for refugee and asylum seeking children, and a willingness to foster a sense of belonging and improve the day to day experience for those children, by reaching out to other services supporting refugees in Bristol."
---

Polar Preet visits Brakenhale
On Tuesday 22 February, Brakenhale School welcomed Preet Chandi (nicknamed Polar Preet) to speak with its students. She is a British Army officer and the first lady of colour to complete a solo unsupported walk for 700 miles across Antarctica to the South Pole. Captain Chandi, a current British Army officer from 3 Medical Regiment, came in to give an inspiring talk to the CCF Cadets and Year 10 students about how she conquered the South Pole.
She told the story about why she took on such a challenge and why this expedition meant so much to her personally. She spoke passionately about all the times she had been told that she couldn't do things, about how she had been told she wouldn't achieve much in her life and that she wouldn't make a difference to others. This became the drive behind her completing this expedition and her motivation.
Polar Preet experienced temperatures of minus 50°C (Minus 58F) and winds of up to 60mph, all while pulling a 90kg (198lb) sled. The stories she recounted included being alone in a field of white and not always being aware of whether it was day time or night time, as the South Pole doesn't have any hours of darkness. Capt. Chandi shared how she managed to keep pushing herself when she was in her darkest hours and the difference a simple message of encouragement made to her, when she completed her check-in calls via a military SAT phone.
The 32-year-old completed the journey to the South Pole almost a week ahead of her schedule, trekking from Hercules Inlet to the South Pole in just 40 days, 7 hours and 3 minutes. Polar Preet is now the third fastest woman to trek across the continent, and the first person to reach the South Pole on foot in two years.
She went on to tell our cadets and students that, "I want to encourage people to push their boundaries and to believe in themselves, and I want you to be able to do it without being labelled a rebel."
I have been told 'NO' on many occasions and to 'just do the normal thing', but we create our own normal. You, as cadets and you all as young people, are capable of anything you want."
You can share in her adventure and find out more information about this exceptional lady via these links www.polarpreet.com/ or on Twitter @PreetChandi10
Darren Bury-Cooke, Cadet Sgt and Year 10 student, told us: "Being able to hear directly from someone who has walked to the South Pole and completed this challenge on her own was just something you don't normally get to do outside of school, never mind in school. Polar Preet was so open and honest and showed me that no matter what others say and how much people can tell you that you won't be able to do something, with the right mental attitude you really can do what you want. I thought it was great being able to ask her questions not only about her expedition, but also about her role within the British Army. Polar Preet was a true inspiration and on behalf of the cadets and students of Brakenhale, we are really thankful that she took the time to come and talk to us."
---

Broadwater School students have inspirational careers talk
Over 500 students at Broadwater School were involved in (virtual) career talks on Friday 21 January. Year 7 and 8 enjoyed a talk from Duncan McIndoe (a Speaker for Schools speaker, Global HR Director of Turner and Townsend with a focus on sustainable construction engineering) and Years 9 and 10 got to choose and experience two different talks from a diverse group of speakers and industries (pictured). Students found the experience very useful and rewarding, although they would have preferred to have the speakers attend in person (next year!) Main messages from the speakers to the students were to work hard, try your best in all you do and have a hunger for knowledge and learning new things and you can be successful.
---
Nature in Art at Five Acres
A group of Year 9 students from Five Acres High School had an excellent trip to Nature In Arts, based in Gloucester.
Students and staff explored a variety of work at the exhibition:
The Light in The Darkness Exhibition, which featured work produced by people working with the Independence Trust and linked in to the current Year 9 curriculum of exploring mental health through art.
Wildlife Photography Competition, which was a travelling exhibition from London's Natural History Museum featuring entry categories of photo journalism, the environment, plants and fungi.
Outdoor sculptures, a variety of sculptures exploring the theme of nature and produced from different materials.
Artist in Residence and main exhibition – students were excited to spot a Picasso.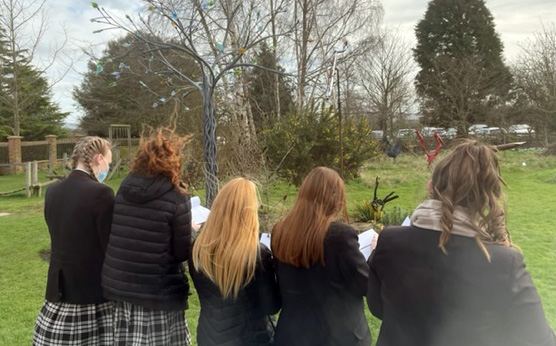 The students had a brilliant time exploring, thinking and sketching in the beautiful surroundings. Staff also received some lovely feedback from the fantastic team at Nature in Art: "The students were calm, quiet, respectful of others and the exhibitions/sculptures. They were a real credit to your school".
---

Greenshaw community supports Ukrainian refugees
Staff at Greenshaw High School have been inspired by the generosity of students and their families in their efforts to support citizens of Ukraine.
The Year 7 community started a collection of essential items to be shipped to Ukraine and Poland. After only two days' notice, staff were greeted at the Year 7 gate by students, each holding bags that collectively contained hundreds of items thoughtfully sought from homes and supermarkets.
The school's designated donation point, 'Prosperity' (a Ukrainian café in Twickenham), was flooded with volunteers packing boxes and loading vans. Following a whole school assembly and with the help of the Sixth Form team and Year 12 volunteers, the community collection spread across the whole school. Again, the school community has been truly inspired by the response of students and their families. Families have been seen driving into the school car park with a boot full of nappies, baby food, socks and scarves. The collection became so vast that it required multiple trips to the donation point each evening. In such a difficult time for many people across Europe, this has been a great reminder that small acts of kindness go a long way and truly make a difference to those in need.
---
Students at Henley Bank explore the arts
Students have been busy in the art rooms, workshops, computer rooms and the kitchen at Henley Bank High School.
In computer science, the attention of all year groups has turned to programming. The Year 7s have been excited to be programming BBC Micro:bits and continue to show a huge amount of creativity in how they use the capability of these tiny computer devices to learn formal programming techniques. Year 8 and Year 9 students have had their first taste of text-based programming, using Python. For many, this is their first experience of any text-based language but their enthusiasm for learning new skills, and resilience in making repeated attempts to correct the dreaded "syntax error", is enabling them to make great progress and enjoy the satisfaction of meeting the challenges set.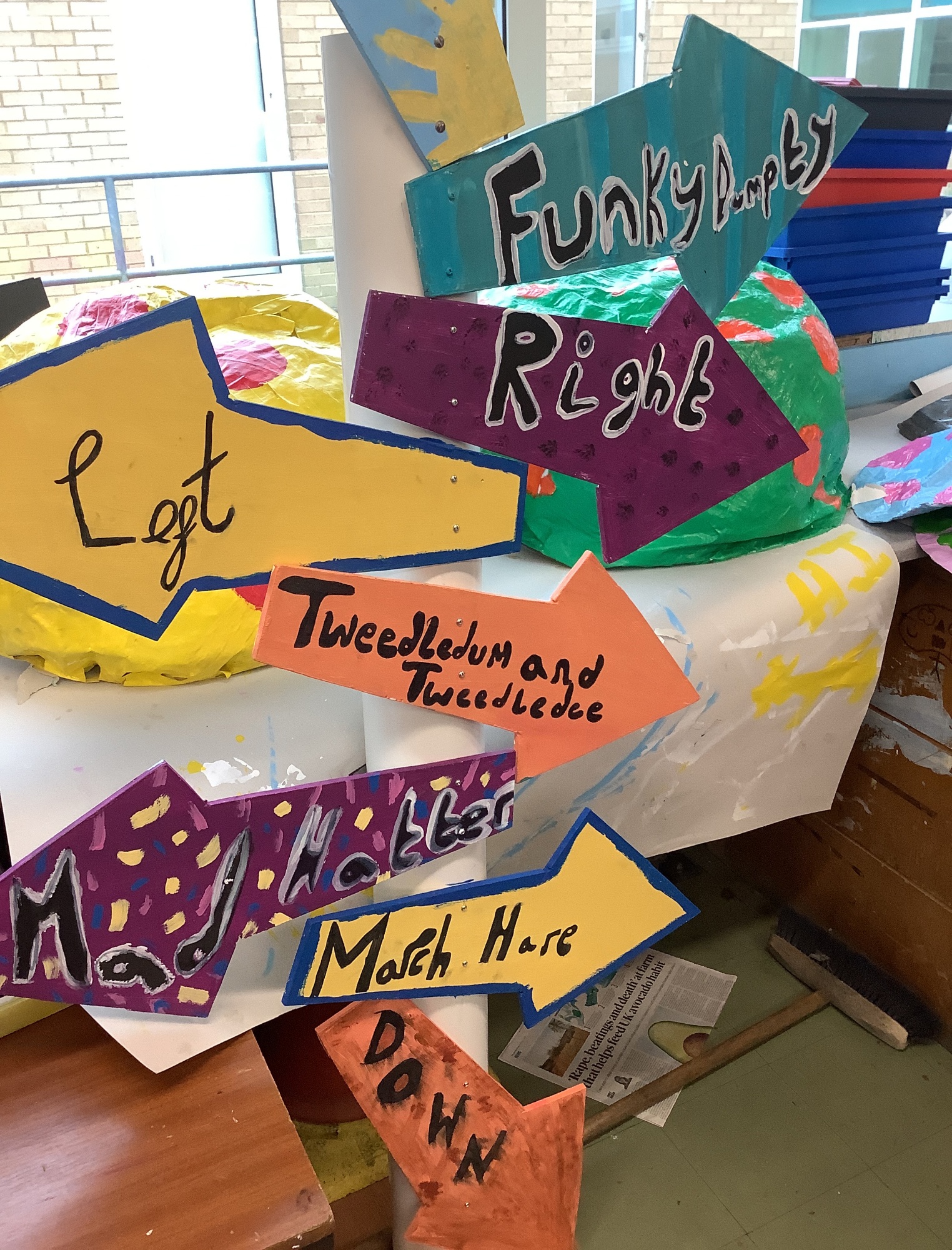 KS3 students have started to explore working in the workshops in design technology, where Year 7 have been learning about using tools and measuring and cutting in their Tangram project: Year 8 have been continuing with their textiles work and are about to construct their first 'ugly doll' toy and Year 9 have been further developing their design and theory knowledge with metals in their jewellery project.
In art, Year 7 students have been exploring the work of David Hockney and his work on landscapes in particular and have been using paint to recreate the marks and energy found in Hockney's work. Year 8 students have been creating mathematical perspective drawings in their urban topic and learning about how to measure, plot and draw out angles and perspective points. Year 9 enjoyed a live broadcast from contemporary artist Grayson Perry, where he talked about his work and influences - and took students on a virtual tour of his studio. He talked very honestly and openly about his life experiences and how they have influenced his work and it was a linked into the mental health topic that Year 9 are exploring. Year 10 and Year 11 continue to produce exemplary pieces in their coursework and Year 11 will soon be starting their final large scale pieces.
Finally, the kitchen has been a whirlwind of creations with all year groups putting on their aprons and using a wide range of ingredients to bring together creative dishes and getting to grips with good, solid cooking and nutrition foundation skills. Year 7 have been further developing their knowledge and understanding of simple and complex carbohydrates, making macaroni cheese and preparing taste tests of rice, couscous and quinoa. Year 8 have been exploring specialist diets such as gluten free and lactose free. Year 9 have been exploring the vegan diet and the effects of cooking methods on different dishes. Year 10 and year 11 continue to explore the hospitality and catering industry, with Year 11 beginning to explore their personalised dish for their NEA assessment.
---

Orchard Park students enjoy Romeo and Juliet
Students at Orchard Park High School were treated to a fantastic performance of Kenneth MacMillan's three act Romeo and Juliet at The Royal Opera House. Students stated that they really enjoyed being able to transfer their learning from English to a different context and were incredibly impressed with the set design, costumes and live orchestra.
---

Extended Project Qualification presentation at Scott Medical
The Year 13 Extended Project Qualification students at Scott Medical and Health care College delivered presentations on their research to their parents, peers and teachers on Wednesday 16 February. They spoke with confidence and passion about their individual projects which will contribute to their overall grade. It was a very informative evening with a wide range of topics discussed:
Danielle - With expanding lifespans, is it possible to maintain dermatological youthfulness?
Milly - Has there been progress in treating and preventing cataracts in Nigeria?
Eden - Why are there fewer women in senior STEM positions?
Lilly - Is the lack of education of boys the root cause of sexual harassment in schools and colleges?
Annabel - Design and make a corset inspired by its change in design and function throughout history
---

Stoke Damerel students gain insight into railway careers for women
A group of Year 11 students at Stoke Damerel Community College have been learning about the various rewarding careers that are available for women within the railway industry.
The students were inspired by a visit from five members of staff at GWR, who shared their experiences and offered great advice. They also discussed the reasons why the Railways are an increasingly attractive career option for young women.
The employees represented a wide spectrum of roles at the company: a Train Driver, a Customer Service Host, a Carriage Cleaner, a Customer Service Apprentice, and an Operational Manager. Other careers available are in engineering, HR, and administration.
The students were divided into three groups to listen to each of the employees in turn and ask them questions. The girls heard about the transferable skills they can use to secure an apprenticeship with GWR, who as a company like to grow their own talent through their apprenticeship and training schemes.
The visit was organised by our Careers and Employability Manager, Miss Trezona. She said: "It was an excellent event and it really opened up the girls' eyes about the careers that are available for women across the railway industry.
"They also got first-hand knowledge from current apprentices and employees about the career pathways and the skills needed for the roles. This is very important knowledge for them to have at their fingertips because it is a highly competitive field, and our students will be competing with applicants of all ages.
"Some of our students are now considering this as an option when they leave Year 11 and move onto their next step later this year," she added.
Val Pope from GWR said she was really impressed with how the session went: "The students were engaged, asked relevant questions and showed a real interest in our Industry. We look forward to seeing them on the railway soon."
---
A day of judgement at Yate Academy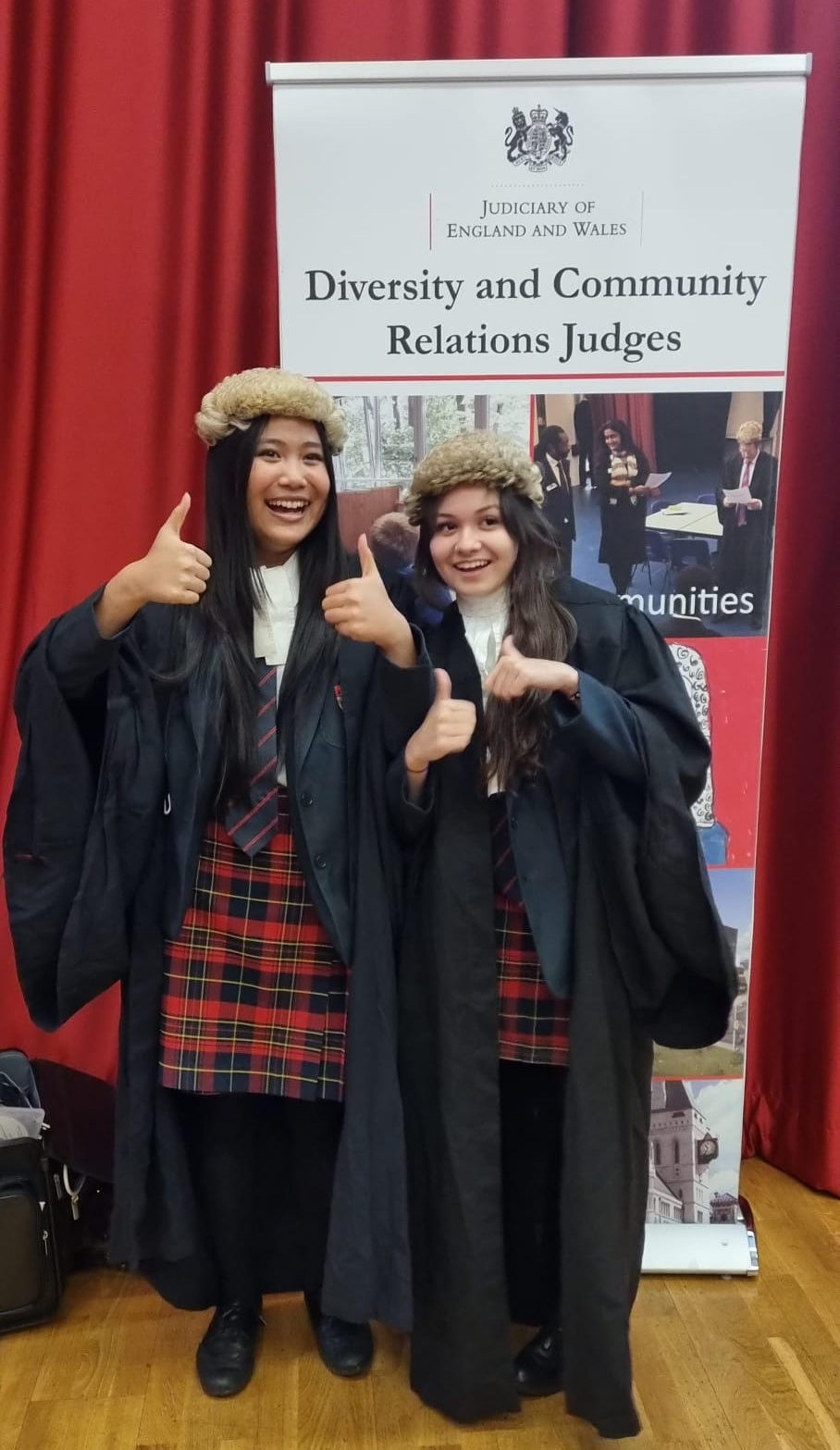 On Tuesday 1st March, Year 10 scholars had an exciting day with Judge Horton learning about the challenging decisions made by jurors every day in this country. We are thrilled that the Judge is also going to be our Character Ambassador and will be continuing to support events over the coming months and years.
Supported by a community team, students talked through a number of cases, analysed the evidence and made judgements around the sentences given. They were undoubtedly challenged by the balance between making the right decision for the victims but also considering the impact on the families of the perpetrator in each situation. Their eyes were opened to the array of sentences open to judges in the cases over which they preside, but they quickly developed the ability to weigh up the pros and cons in each situation.
Natalie Wilcox, Headteacher at Yate Academy, said: "This is the third activity that these students have experienced around futures and careers and they are building an impressive range of skills. Due to the exceptional series of workshops with DHL and the work that they are doing with our scholars' lead, there is some phenomenal talent coming through. I genuinely can't wait to see what happens in the future!"