News from our secondary schools
Premiership rugby player coaching students at Blaise
Kelly Smith is an international rugby player who is currently playing in the English premiership at the highest standard of women's rugby. She has been appointed by Blaise to lead our gifted and talented programme every Friday in PE across the year. Students have been selected in Years 7 to 11 to attend these additional PE lessons focusing on developing their physical education skills through rugby. Students are engaging well in their first lessons, where they have been taking part in passing and movement practices and starting to play competitive small sided competitions. We are excited to see their skills grow and develop across the year.
---
Careers stories from Brakenhale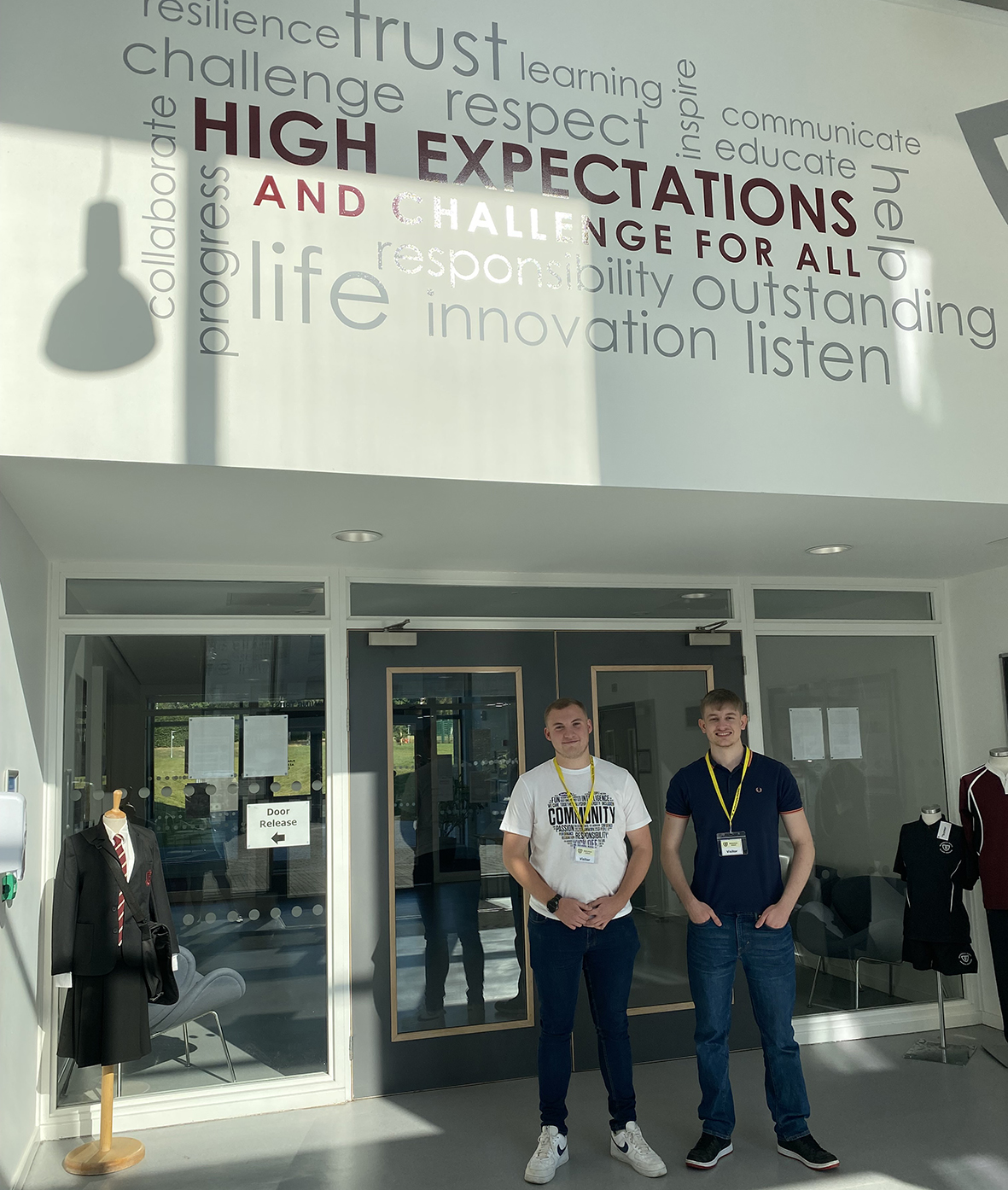 Former Brakenhale students Michael Adams, James Maryon and Rajveer Sohal recently delivered an inspiring careers session to sixth form students at Brakenhale and shared their stories about pursuing the apprenticeship route after they completed their A Levels and BTEC qualifications.
Michael works at Europe's leading software company Softcat and is studying for his ITSP IT Technical Salesperson Apprenticeship. James works for Fujitsu and is studying both an apprenticeship in Software Development and a degree in Digital and Technology Solutions. Rajveer works for Unilever and is studying a degree in Chartered Management.
The boys explained how they found, applied for and secured these roles whilst in Year 13 and spoke about the benefits of choosing the alternative route to university. The session provided current sixth form students with a balanced insight into the range of opportunities available to all students post-18.
---

Broadwater launches its challenge hour
Broadwater School launched its wide array of extra-curricular activities last week during Challenge Hour Fair. Students were excited to sign up for clubs taking place during lunchtime and after school, some of which include: art, athletics, badminton, brass music, basketball, chess, cooking, choir, coding, design and technology, journalism, cricket, drama, football, hockey, netball, rugby, photography, positive space, table tennis, science, volleyball, health related fitness, RPG, and sewing to name a few.
---
Local MP visits Five Acres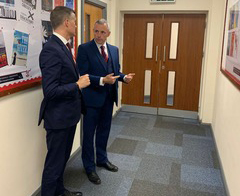 On Friday 17 September, Mark Harper MP, Member of Parliament for the Five Acres High School area, joined Headteacher, Simon Phelps, and Director of Education, Izzy Ambrose, for a visit.
Mr Harper spent time touring the school, talking with Simon and Izzy about the journey that the school has been on since joining the Greenshaw Learning Trust, finding out more about our recent achievement of receiving the World Class Schools Quality Mark and the aspirations that the senior leadership team and all the staff have for our students and those joining us in the future.
In a letter to the school in July following the announcement of our WCSQM award, Mr Harper said: "I am writing to congratulate you, your staff and pupils at Five Acres High School on obtaining the World Class Schools Quality Mark.
"I am told that the World Class Schools Quality Mark, in contrast to other awards, particularly focuses on developing the skills, competencies and characteristics of young people. It is wonderful to hear that Five Acres has been recognised for putting such an emphasis on developing its students into well-rounded young people."
During the visit, the school's student leadership team also spent some time grilling the MP, asking questions such as 'what is the best thing you have achieved in politics?' and 'how has Covid affected your work as a politician?'
---

Summer sporting events at Greenshaw High School
Following two years in which students were unable to take part in any large scale school sporting events, all year groups at Greenshaw were delighted to be able to participate in a day of sports at the end of the summer term, once some of the Covid restrictions were lifted.
The Greenshaw Athletic Championships was hosted at the David Weir Centre in Carshalton on Friday 9th July, and saw students competing against their houses and tutor groups in a range of athletics events. The day was split into half, with Year 7 attending in the morning and Year 10 in the afternoon, which gave the ideal opportunity for students to watch all the events for their year group and cheer on their peers.
The day started with perfect weather conditions and the Year 7 students competing for their tutor group in their first ever athletics championship. Within the first few events, there was a new school record, with Elijah throwing a tremendous score of 21m in the Javelin, beating the previous school record set in 2016.
The second half of the day saw Year 10 heading to the track, ready for their competition. There were some new records set; Edan in the javelin, Joseph in the 300m and Keely and Darius in the 60m. The afternoon was finished off with some new fun races, including the egg and spoon and hula-hoop race, within which students were eager to win for their house but had a great laugh in the process.
On Wednesday 7th July, our Year 9 students took part in a summer games morning with sports ranging from netball, football, basketball, gym and dance, table tennis and rounders.
All students performed so well and the competition was so strong, that it came down to a tie on points for first place.
This was followed on Tuesday 20th July, with a summer games morning for our Year 8 students. The entire cohort took part in the event, competing in sports ranging from netball, football and basketball to table tennis and rounders. All students were excellent in the way they demonstrated both sporting ability and sportsmanship, despite the record temperatures in which they played.
---

World of Work at Henley Bank
Henley Bank High School welcomed a variety of guests on Thursday 23rd September to their World of Work day. Designed to give students from Years 8 to 11 an insight into the different employment pathways available once they leave school, everyone was given a quiz to find out as much information they possibly could about the industries presented to them.
A particular highlight was Unilever, who provided students with products that they are famous for making as well as a virtual cockpit from Fly2Be and some sports experiments from Hartpury College and University. There were stands from the Arts, STEM, Law, the Military and the NHS to name a few. Many Year 11s were very excited that they now have contacts to help them with the next stage in their education.
---
Holmleigh Park goes green!
Following a very busy year of building work, Holmleigh Park is now far more environmentally friendly than ever before. Built in 1971, the school was beginning to show its age with a leaky roof and single glazed windows, resulting in massive energy requirements. Over the past year, close to £2 million has been invested in the building, with a brand new roof, and every window and door replaced. This should result in a hugely reduced energy need.
The roof is currently being covered in solar panels. The hope is that this will mean most of the school's energy is generated through renewable sources, and students will have the opportunity to learn about this in science and geography lessons.
The third strand of HP's environmental work is dealing with litter. The school has invested in new bins around the whole site with separate receptacles for recycling and general waste. All the packaging used for food is fully recyclable, so that with students' support the school can drastically reduce its waste output.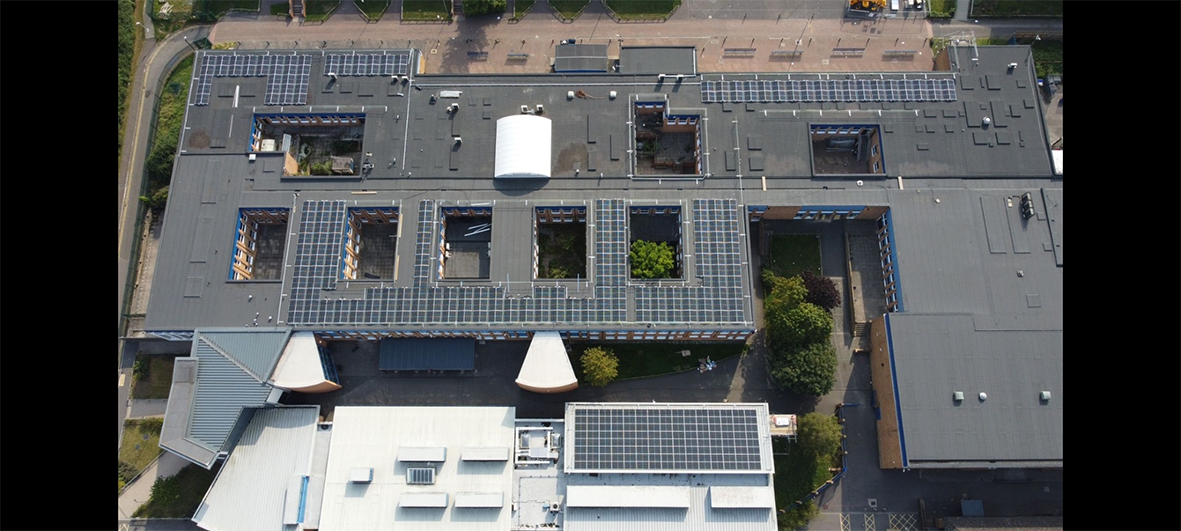 ---
LAMDA students achieve excellent results at Orchard Park
Orchard Park High is now a registered LAMDA examination centre, and it is thrilled to be celebrating its first set of results for assessments held at the school. The LAMDA students achieved 11 Distinctions and 1 High Merit for their Acting, Musical Theatre, and Public Speaking examinations. Stephanie, in Year 10, is celebrating the highest mark of the cohort with a high distinction in Grade 6 Public Speaking, earning her 12 UCAS points. Stephanie has also reached the Jack Petchey Speak Out Challenge finals, having won the regional heats at the end of the summer term.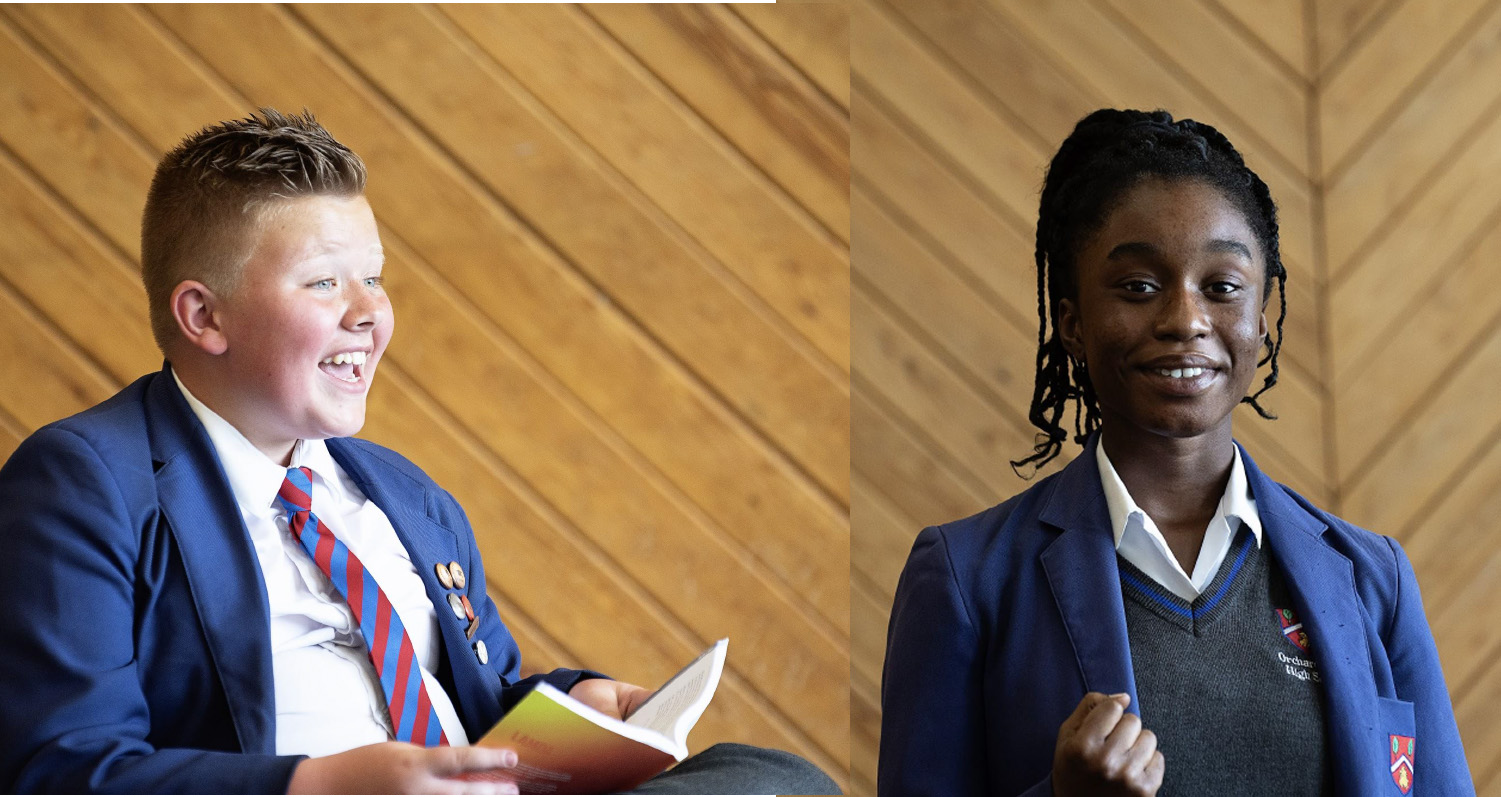 ---
Scott College students trek the coastal path
Forty Year 10 students from Scott Medical and Healthcare College recently took to the South West Coast Path to complete their Bronze Duke of Edinburgh practice weekend. The students were excited to put together all the skills they had learnt in the classroom to navigate, camp, cook and work as a team. All the students impressed with their determination to rise to the challenge and it will be exciting to see them bring the same enthusiasm and commitment to the assessment weekend.
---
Stoke Damerel welcomes visit from local MP
Mr Luke Pollard, who is the Labour MP for Plymouth Sutton and Devonport, was invited to Stoke Damerel Community College on 28 May to answer questions from students around issues of diversity, equity and inclusion. He was also very generous in sharing his own experiences of growing up in Plymouth and of becoming the city's first ever openly gay MP.
Diversitas, which was launched last September, is working towards engendering a college-wide attitude of inclusion and acceptance of everybody. The group is open to all students to join.
The questions which the students asked Mr Pollard included:
How have you overcome prejudice within your work and within Plymouth?
What are you doing to support inclusion and diversity?
What can we achieve for the future for the LGBTQ+ community of Plymouth?
How can we make Plymouth more accepting of diversity within Plymouth and our community?
What do you think our group can do to help?
To begin, Mr Pollard described the challenges he himself faced when he was at school in 1995 and how things have changed since then: "When I was a 15-year-old, I didn't feel I could come out," he told the group. "But things are more accepting now, so it has been brilliant to see the progress we've made as a country and as a city. But that progress didn't happen on its own; it happened because people fought hard for it, and we can say the same about other areas of discrimination."
"What can you do? As a group and as individuals, you can confront a big problem and tackle it bite-size, one mouthful at a time. So, try changing the sentence, 'I wish they would do something about it' to 'I wish I could do something about it'. Now, you are taking power. You can adjust your own behaviours, you can influence your families and friends, you can work with others."
And Mr Pollard said: "I feel strongly that no-one is free until everyone is free. No-one is equal until everyone is equal. We've got a long way to go, and we can all play a part."
Afterwards, the MP praised the College for setting up the Diversitas group and complimented the students on the questions they put to him: "They asked some really good questions, and it was great to see how passionate they are to help make the College and the wider community as inclusive as possible. And it's good to see the College doing such great work on this."
Mr Kelly thanked Mr Pollard for spending over an hour with the students and said: "It was lovely to have Luke here to talk to our students - several stayed on afterwards to ask him even more questions. It was also nice to be able to showcase to him the work that we are doing here to improve and increase diversity and inclusion within the College and in the community."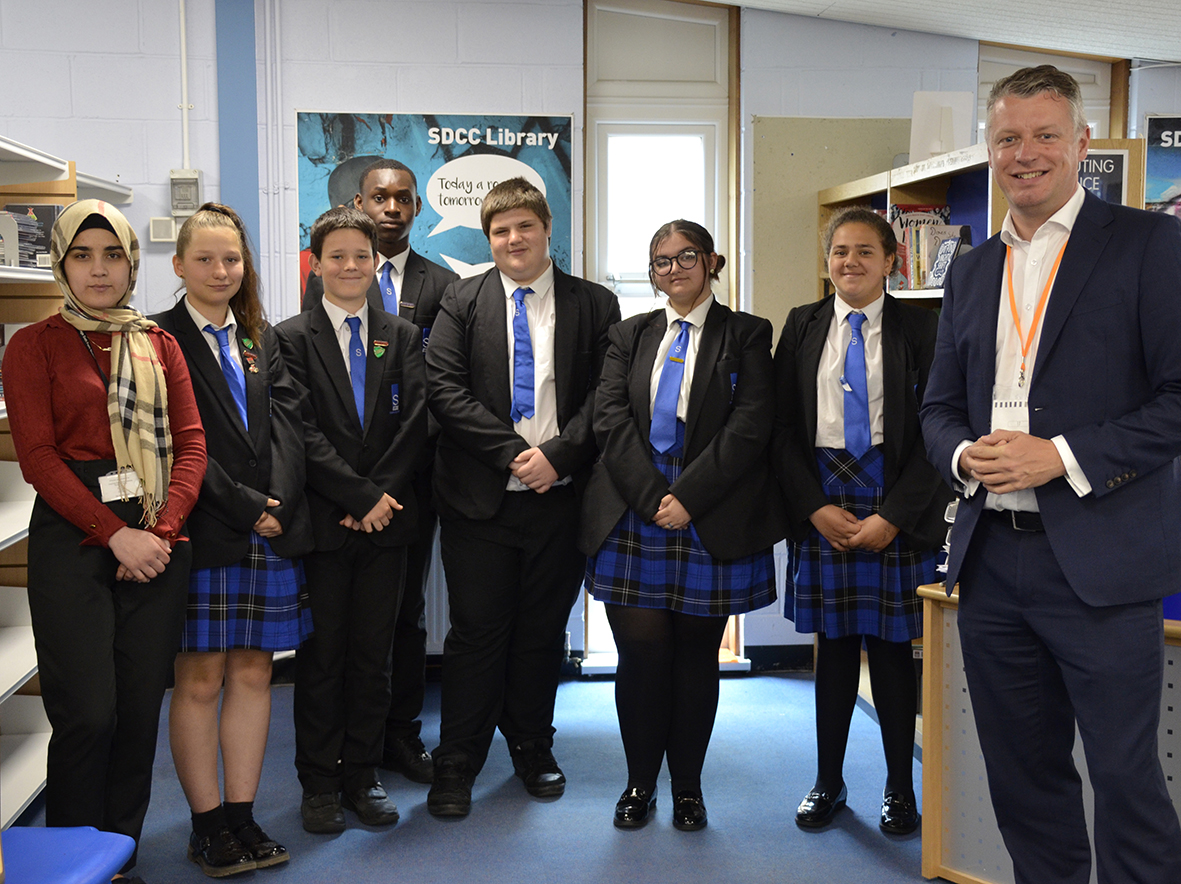 ---
Making music at Yate Academy
Students at Yate Academy love music, and choir and orchestra are definitely the highlight of the week. The school now has even more to celebrate. Yate Academy has been awarded the Music Mark, having been nominated by South Gloucestershire Music Hub. This is due to the commitment to music, both within the curriculum and beyond. With the Year 7 and 8 orchestra, Year 9 and 10 Let's Rock, the school production and the Acapella Group, the music schedule is always busy.
In addition to this, the school is incredibly proud that Year 10 student Enoch Wong is attending the Royal Welsh College of Music Junior Conservatoire, which is truly exceptional for someone of his age. He is also part of the South Gloucestershire Young Musician competition. He is a talented pianist and can often be heard practising on the grand piano in school.
Headteacher, Mrs Wilcox, said: "Our commitment goes beyond the typical and we have recently appointed an on-site music therapist as part of our support of mental health and well-being for our young people. Music is an area of the school that we are really proud of and we are excited to see what happens next!"