FREE CPD RESOURCES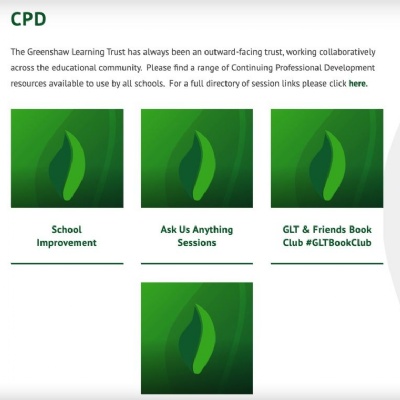 New CPD resources available
To support colleagues across the education community, the Greenshaw Learning Trust's website now has a freely available 'Continuing Professional Development' section. The library of webinars will be regularly updated and available for all schools and individuals to freely access.
Webinars from the GLT National Inset Day, held with the support of We Are In Beta and e4education on 18 December 2020, are included with over 30 of the best speakers from education and beyond. Speakers include Matthew Syed being interviewed by our CEO - Will Smith, Andy Buck, Tom Sherrington, Tom Bennett and Katharine Birbalsingh.
Find a sample of the webinars from the GLT School Improvement Community, a 12 month learning programme in partnership with We Are In Beta. As well as the webinars the Ask Us Anything panels have been included giving access to the Trust's extensive expertise and experience. Discussions from the recently launched GLT & Friends Book Club, an informal group, are also available.
To view the resources please click here and for a full directory of session links please click here.