GLT schools create primary transition programme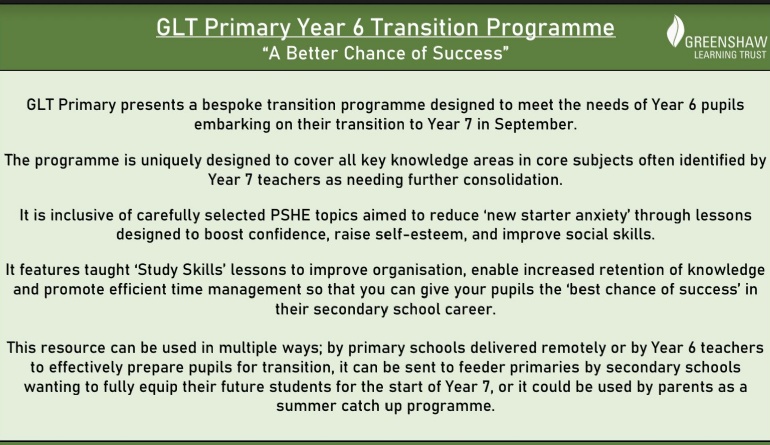 Designed to meet the needs of Year 6 children embarking on transition in September.
The Greenshaw Learning Trust has been very aware of the impact that lockdown has had on its Year 6 children, who have been unable to complete their transition to secondary school in the usual way. In response, staff from its primary schools have worked closely with their secondary counterparts to create a programme of transition lessons, designed to meet the needs of Year 6 children embarking on their transition to Year 7 in September.
The programme covers key knowledge areas in core subjects often identified by Year 7 teachers as needing further consolidation, and includes carefully selected PSHE topics aimed to reduce 'new starter anxiety', as well as lessons designed to boost confidence, raise self-esteem, and improve social skills. It also features taught 'Study Skills' lessons to improve organisation, enable increased retention of knowledge and promote efficient time management, so that students will have the 'best chance of success' in their secondary school career.
The lessons can be used in multiple ways; by primary schools delivered remotely or by Year 6 teachers working with children in school, allowing them to effectively prepare them for transition during the last few weeks of term. It can be used by parents as a summer catch up programme and has been sent to feeder primaries by GLT secondary schools wanting to fully equip their future students for the start of Year 7. The programme will sit alongside the range of online 'meet the tutor' sessions, video tours and virtual induction opportunities that schools have organised to try and help children feel ready and excited to start secondary school in September.
As with all of the resources produced during lockdown, the Greenshaw Learning Trust has shared these resources with other schools. For further details please click here.