News from our secondary schools

Blaise High School: We cannot walk alone
Students and staff at Blaise High School came together to show their support for refugees and asylum seekers across the world as part of this year's national Refugee Week theme, 'We cannot walk alone'.
The students completed laps around the school field and wrote pledges about why they were taking part in this important event. Mrs Prosser had spoken in assembly about the difficulties facing individuals and families who are forced to leave their own countries because they are facing persecution or are living in fear for their lives because of war.
The School Council was privileged to hear about the experiences of Forward Maisokwadzo, Deputy Adviser on Inclusion to the Mayor of Bristol, who was invited as our guest speaker.
Forward was a journalist working in Zimbabwe, but he was forced to leave his homeland to seek asylum after he was tortured for speaking out against human rights violations.
The School Council was moved by his story and the kindness he received from his fellow journalists at The Sunday Times, who supported him when he arrived in the UK.
Headteacher, Katherine Brown said: "Inclusion is an important value at Blaise High School. We are lucky to have a diverse community within our school, including some students who have experienced the difficulties faced by asylum seekers and refugees, so it was great to be able to show our support during Refugee Week."
Blaise is now fundraising to help Bristol-based charities that support the well-being of asylum-seekers and refugees. To donate, click here.
---

Brakenhale students visit Osmington Bay
After a year's break, Brakenhale students descended upon a sunny Osmington Bay for PGL 2021! The students who missed out last year had a great opportunity to relive and make new PGL memories. Students from Years 8, 9 and 10 spent three days taking part in a range of exciting activities from the infamous giant swing to abseiling, sensory trail, raft building at Weymouth Olympic water sports Centre and rifle shooting.
All students had a fantastic time with their year group friends, taking part in the activities as well as the legendary man hunt challenge on Saturday night. Many fears were overcome on activities such as the giant swing, zip line, where students pushed themselves outside their comfort zone. Laughter was had on the sensory trail and raft building, as well as the beach walk on Friday evening.
Miss L Rushby, KS4 Raising Standards Coordinator at Brakenhale, thanked the staff involved: "A massive thank you to the staff members who organised and supported the weekend, allowing it to go ahead. Without their commitment to the weekend, Brakenhale students would have missed out on this opportunity. Words cannot describe the appreciation for the staff who gave up their weekend."
---
Annual Challenge Week at Broadwater School
Broadwater School hosted its annual Challenge Week from 13 to 15th July. Students in Years 7, 8, 9 and 10 participated in a variety of activities including a mini Duke of Edinburgh award, outdoor adventures, water sports, Project Runway, STEM, art and design activities, a visit to Mane Chance Horse Sanctuary and London trips (theatre, photography and Google) to name a few!
With the wide range of activities on offer, there was something for everyone to enjoy, both on and off site. The sun shone and a brilliant time was had by students and staff. It was a fantastic way to finish off the year with lots of smiles and laughter.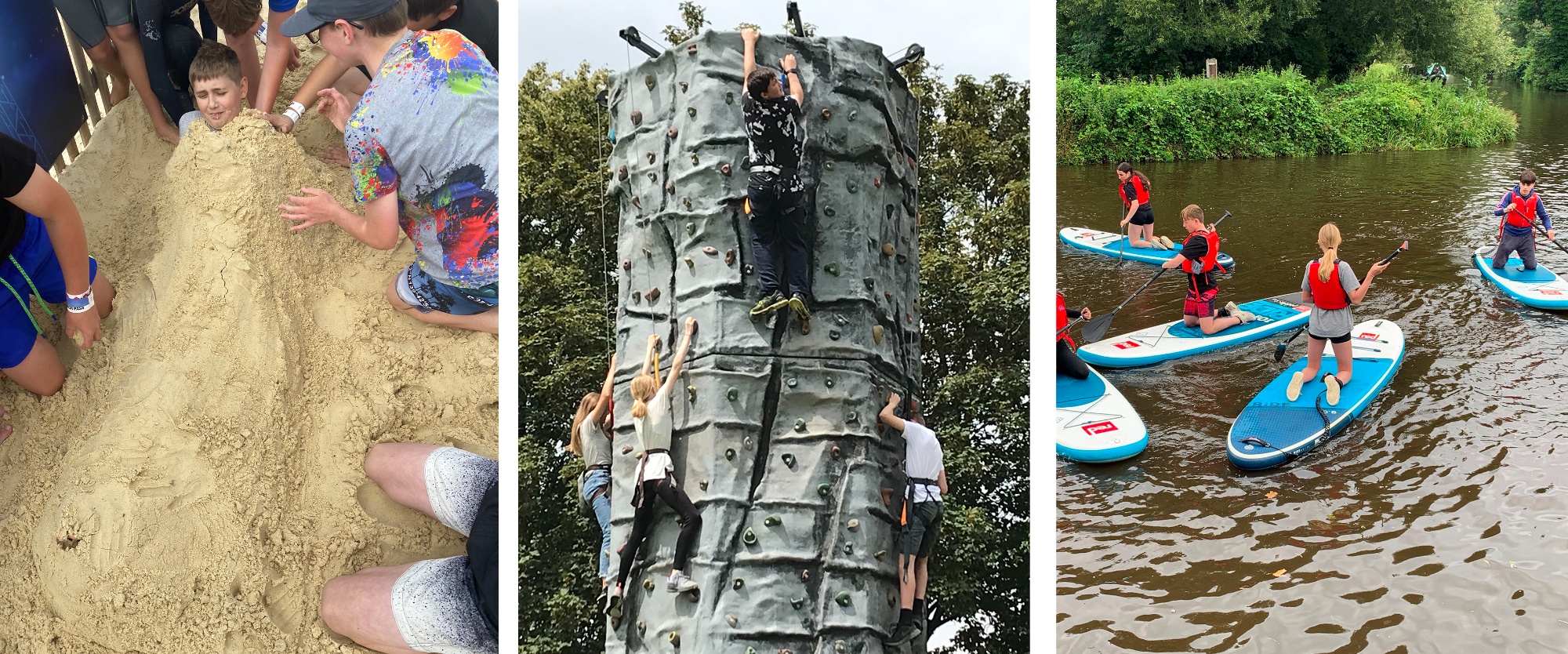 ---
The Postcard Project at Greenshaw High School
When the COVID pandemic hit in 2020, people in this country and worldwide were faced with enormous challenges. As a school community at Greenshaw High School, our staff and students demonstrated remarkable resilience and strength in the face of these challenges. Teachers worked to ensure that learning could continue, and our students quickly adapted to online education and virtual lessons. Support staff were in school to provide supervision for the children of key workers and others adapted to new roles. The cleaning and site teams ensured this could all happen safely while many staff worked around the clock, planning and responding to new government information and safety guidelines. Exams were cancelled and the corridors remained empty.
When we returned in September 2020, our school felt very different. Year groups were in 'bubbles' and face masks were compulsory. Despite this, it was a great relief to be back in the building and seeing each other restored some sense of normality. But with numbers rising once again, the UK saw a second lockdown in November 2020 and a third in January 2021. It felt as if there was no light at the end of the tunnel.
Finally, as spring approached, things began to look more hopeful. The success of the vaccine programme meant that the country started to open back up and Greenshaw opened its doors once more. Familiar now with the need to be adaptable, students and staff followed new procedures and routines to ensure the safety of everybody. Almost exactly a year since schools closed, it felt at last that we could look towards a more positive future.
Greenshaw's community exhibited exceptional resilience in extraordinary circumstances, and as a school we are hugely proud of all we have overcome. To mark this, students and staff were asked to convey their experiences on a postcard. A huge piece of artwork has been produced from the postcards and is on prominent display in the main corridor. It is an authentic reflection of the impact of the pandemic and how it affected staff and students as individuals and as a school. It serves as a creative outpouring of their cumulative experience and is a whole school response to what has undoubtedly been one of the most uniquely challenging times in the history of the school.
---
Legacy and Character Education at Henley Bank
What a year it has been for Legacy and Character Education at Henley Bank High School. It began in September, with the relaunch of its colleges and welcoming Year 7 into their new college families. In October, the Colours Character Education programme was launched to encourage everyone across the school to challenge themselves to improve their Ambition, Confidence, Creativity, Respect and Determination. Since the launch, over 100 half colours and colours have been handed out to both staff and students. In October, the first round of Legacy Co-Curricular Clubs were launched and these have now grown to an allotment growing their own vegetables, rooms redecorated by students, fitness improving through sports, and the growth of music technology. A lockdown also didn't slow them down as Lockdown Colours were created, Lockdown Clubs were run and virtual tokens were awarded to colleges.
With all of this phenomenal work, the school decided to contact the Association for Character Education and on 1 July, a team of academics and leaders came to the school to visit Mrs Benfield, staff and students to talk about the research and work we have done on Character so far.
Stephen Derry, Headteacher, said: "I am pleased to say that we have been awarded the ACE School of Character Kitemark. Something which only a handful of schools have been awarded. Since then, schools from as far as South Africa have been in contact to see what Henley Bank is doing for Character Education. A massive well done to each and every one of our students and staff, we are very proud!"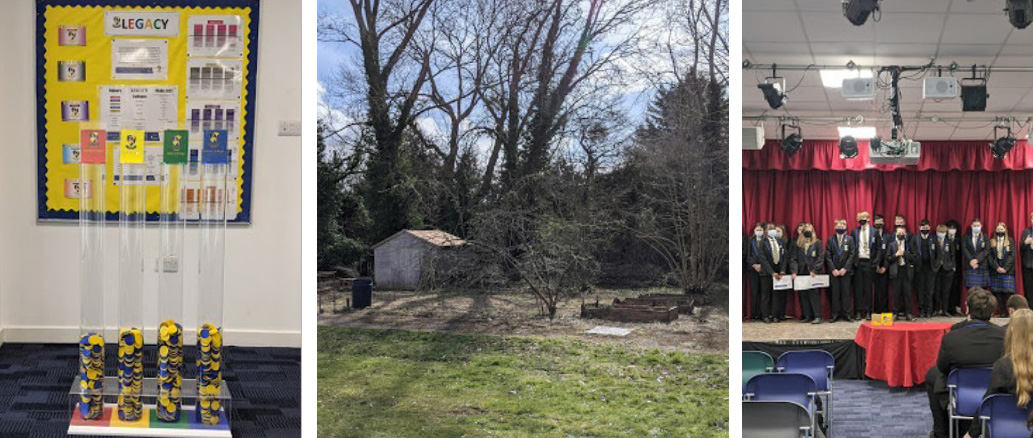 ---

Holmleigh Park named as Hegarty Maths super school
Holmleigh Park students were celebrating after once again being named a Hegarty Maths super school. The annual list was published, with only the top few schools from the several thousand secondary schools who use Hegarty Maths being chosen as super schools. There was further cause for celebration with Holmleigh Park winning medals in all five of the possible categories – an achievement shared by only a tiny number of schools in the country.
Holmleigh Park students' achievements included:
The gold medal for MemRi, with students completing over 15,000 MemRi Goals.
Silver medals for total questions answered (close to 1 million in total since September) and average hours completed per student (around 25).
Bronze medals for the amount of videos watched (around five months worth, when you add all the minutes together!) and skills well done (our students have mastered on average 73 skills).
---
Science Energy Quest at Orchard Park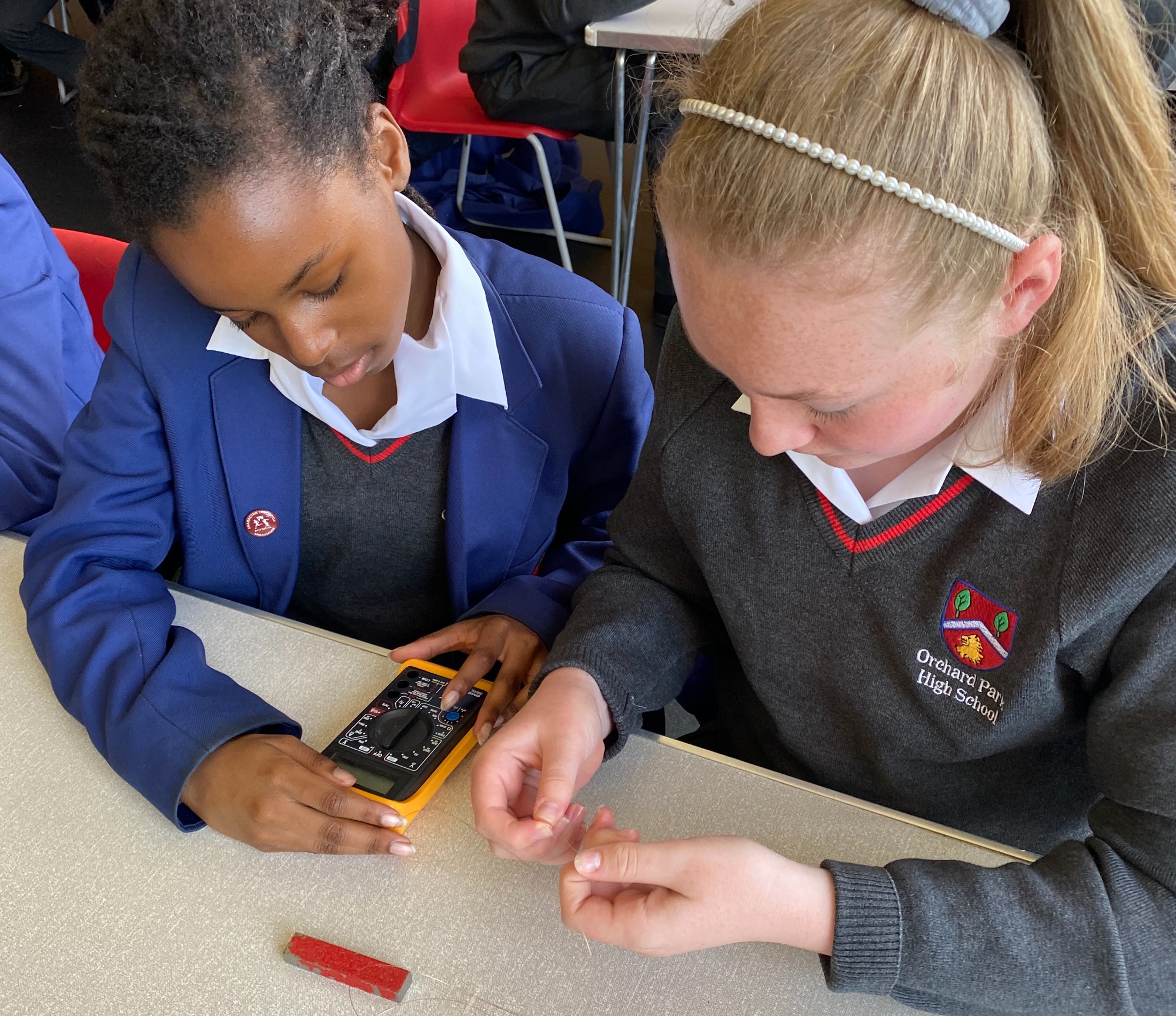 A group of Year 7 students at Orchard Park High School took part in an Energy Quest programme this half-term. The programme was designed to help students discover their engineering skills and to further develop those skills. During the interactive workshop, students were immersed in a variety of real-life scenarios, and they were also challenged to design a solution to power a mobile phone. This exercise helped to unlock their 'inner engineer skills', as they explored a variety of sustainable energy sources. They had an opportunity to meet remotely with real life engineers, as they worked through the engineering design process.
The workshop was linked to the KS3 and KS4 science curriculum and allowed students to gain knowledge and understanding of the role that engineers play in green energy initiatives and sustainable technologies.
---
Stoke Damerel Community College welcomes Lord Chief Justice
Stoke Damerel Community College was delighted to welcome Lord Chief Justice, The Right Honourable Lord Ian Burnett of Maldon to the school to talk to 25 students about his role as the Head of the Judiciary of England and Wales and to discuss law as a career.
The Lord Chief Justice also held a question-and-answer session with Year 10 and 12 students and was joined by District Tribunal Judge Julia O'Hara and District Judge Penelope Taylor. He began his talk by stressing the vital importance of having a judiciary that is independent of the Government, describing it as "the bedrock" of our legal system for centuries, and that everyone is treated the same before the law. He dispelled the image of law being a "dry and boring" career, saying: "Actually, it is mostly good fun!" He encouraged students who are interested in the law to join the profession.
Some of our students were particularly keen to learn about the emotional side of working in law and how to cope with distressing cases. The Lord Chief Justice said: "This is a growing problem. There are many judges who do spend a lot of their time on cases that are harrowing, particularly in the criminal and family courts. It's vital for all of us to disengage when we come out of court - and that can sometimes be difficult. Sentencing also involves making very difficult decisions. There are some cases that are extraordinarily difficult, and some of them stay with us forever."
Two of the school's sixth formers, Soso and Lily-Mae, stayed at the end of the talk to chat further with the Lord Chief Justice as both are interested in going into law. Lily-Mae said: "It was a very useful experience to learn face-to-face, especially about the emotional side. I feel that's not touched upon in books or online. It was a very good opportunity to talk to the Lord Chief Justice and listen to his advice."
Soso added: "Lilly-Mae and I were saying only recently, 'wouldn't it be great to meet the Lord Chief Justice' and we never thought it would happen! I found hearing about the day-to-day reality of law really valuable."
Soso and Lily-Mae were also interviewed by reporter Lucy Wilson, who was covering the Lord Chief Justice's visit for BBC Radio Devon and BBC Spotlight.
Stoke Damerel Principal, Anita Frier, said: "This event was a wonderful opportunity for our students, and we are very grateful to the Lord Chief Justice for sharing his experience and advice. We have several students who have expressed an interest in law, and this has given them a real insight into what an important and rewarding career it can be. Hopefully, it will have inspired others, too."