News from across our secondary schools
Duke of Edinburgh Awards at Blaise High School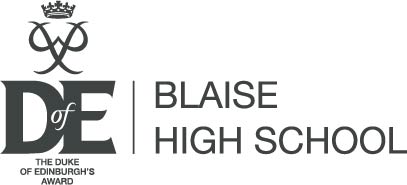 Over the last few months, day to day life has been affected by COVID-19 and many of the activities the school was previously able to take part in have been restricted or cancelled completely. However, one activity which has been able to continue is the Duke of Edinburgh Award at Blaise High School.
Whilst the scheduled Bronze award expeditions have had to be postponed, students at Blaise have shown dedication to continue their other award sections and complete as much of their award as possible during an increasingly difficult time. Some students have had to rethink how they go about certain activities whilst volunteering placements were closed, and sports teams suspended for those utilising these for their physical and skills sections.
Many students altered their activities to continue to exercise in a different way than they had initially planned to count towards their physical section. Students continued to practise their skills section activities whilst at home, and some students started volunteering to help their vulnerable neighbours when they were unable to get out due to the pandemic.
All students who have completed their Volunteering, Physical and Skills sections in 2020, but have been unable to complete their full award due to the postponement of expeditions, will receive the Certificate of Achievement from the D of E and the school looks forward to presenting students with their certificates when they are all back together in September.
The school is looking forward to being able to undertake expeditions with students when it is safe to do so and for all students to achieve their full Bronze awards.
---

Illuminating Brakenhale
With the kind technical help of a local live events production company, Jonathan Curtis, design and technology teacher at Brakenhale School, put forward an idea to illuminate the school. The illumination event was held to recognise the NHS and key workers, celebrate the creativity of Brakenhale students and remind the school community that although school has been closed the community is very much 'alive' and that the students' teachers are missing them.
Jonathan works part-time at the school and also as a work coach/mentor at SFL (www.sfl.live). Like other companies in the live events sector, COVID-19 has significantly impacted on the delivery of events. He also wanted to highlight the events industry and is very grateful to SFL and a team of their production engineers who volunteered to support the event free of charge.
Jonathan said: "During this time of lockdown, I believe this has shown how significant schools are in providing structure, community and hope to our wider communities. I also wanted to remind our community that Brakenhale supports values of inclusivity and respect for all, regardless of status, gender, race or background and that we are missing our students!
"I personally wanted to give a message of love and respect and highlight the community spirit of Bracknell against racism, as pioneered by a local resident Karima Moustafa – who has put together a number of resources along with members of staff at Brakenhale."
The event on 15th June used moving lights of stars to represent the school's students being 'superstars', with a 40m projection of students' art, design and technology work, poetry and a rainbow to say thank you to key workers.
Ella-Ann, a student in Year 7, also spoke brilliantly on Radio Berkshire on the day of the event about the art work she had projected onto the side of the school building. Ms Coley, Headteacher, and many other staff members supported the event, staying at school very late to do so.
---
Five Acres joins Student Leadership Accreditation
Throughout Year 11, the student leadership team at Five Acres High School has been working to develop and embed the school's character education values. One of its five core values is confidence, including being able to gain leadership badges. For a bronze badge, students of all ages can apply to be on the student council or gain the badge for being a sports captain or leading as a student ambassador, school librarian or the leader of an extra-curricular club. Five Acres has seen a great chess club emerge at lunchtimes, which is run by students in Year 10 and open to all.
This academic year, the school has joined SSAT and has encouraged student leaders to gain an accredited qualification. The Student Leadership Accreditation (SLA) is an innovative way of recognising students' leadership skills and the impact that they have in the classroom, across the school, and in the wider community. This process encourages students to:
• Critically self-reflect on their own skills as leaders,
• Work collaboratively to plan how they will meet the criteria and evidence it,
• Organise and structure their evidence,
• Peer assess others' work against criteria,
• Aspire to take on increasingly challenging leadership responsibilities.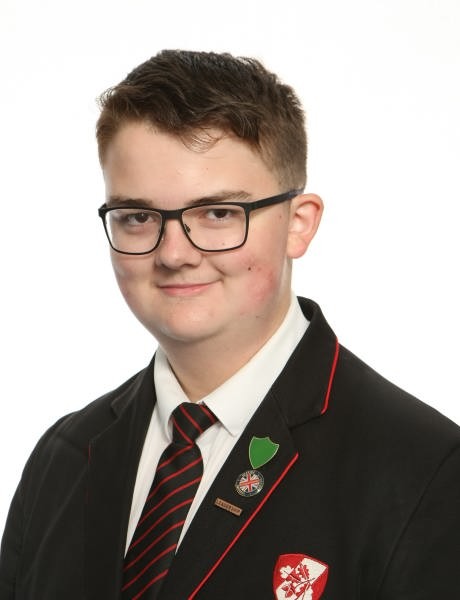 Year 11 students were encouraged to produce a portfolio to show the skills they had developed as a leader using opportunities and experiences they had worked on inside and outside of Five Acres High School. Tyler (pictured left) has achieved a silver accreditation as he has worked tirelessly in his community as a dog walker, he also helps out at a monthly old people's luncheon group and he helped set up a Jubilee lunch celebration so that the elderly residents could celebrate in style. Tyler also takes pride in his role as a sea cadet, and he uses this to be a role model to younger students.
Channelle has achieved a gold accreditation for her excellent leadership skills, shown as a Rainbow leader outside of school and as a role model within Five Acres High School. Amy and Isaac, the school's head students, were role models across the school and took an active part in open evenings and leading on assemblies and Remembrance.
We have hundreds of students in our schools who are developing, embedding and growing their character skills on a daily basis and Five Acres High School is looking to celebrate every achievement and success.
---
Greenshaw launches the GPQ
This term has seen the launch of the Greenshaw Project Qualification (GPQ) for Year 8 at Greenshaw High School. The aim of the project is to enable students to develop some key skills and habits necessary for success as they continue in education. That may be with GCSE coursework, independent reading to support their subjects, the Extended Project in the sixth form, or even their dissertation at degree level.
Through some newly designed tailor-made software through the school's managed learning environment, Frog, students have been able to monitor and submit work as a portfolio. They began with some thinking tasks to help generate topics and questions that would make a successful research project. They then had to find several different sources for their research question and take notes in the style of Cornell University students. Finally, they had to plan and execute their project product. Throughout, they have had individual support from staff volunteers at school, and they have been expected to respond to feedback and keep a research journal.
Student projects have been from an astonishingly wide range of topics, from pet care to local history, human rights to gaming, and of course some on COVID-19.
Tom Ferguson, who is leading the initiative at Greenshaw, said: "The level of maturity, resilience, commitment and focus required made this an ambitious target for our Year 8 students, but they have done exceptionally, and those projects that have been completed, and those that have been exceptional, will be receiving their qualification certificates in the near future. There are literally hundreds of Year 8s who should be proud of themselves, especially given the timing and circumstances they have had to work under."
---
Holmleigh Park launches its character curriculum
Holmleigh Park High School may have been in lockdown since March, but that hasn't stopped the school moving ahead with its plans for improvement. Having spent its first year focusing on getting the basics right, it is now getting ready to launch its character curriculum in September 2020.
Following a student competition and vote, four new house names have been selected: Hurricane, Meteor, Typhoon and Javelin. These are named after the four most famous planes built by the Gloster Aviation company, which was based in the local area. These planes all played a vital role in keeping Britain and its allies safe in World War II and beyond, and represent Gloucester's importance as part of the United Kingdom.
The houses will be the foundation of the school's character offer, with house competitions planned in every conceivable area – sport, music, drama, art, academia and beyond.
The school is also introducing a colours system in September. Students who have made a significant contribution to their houses can win their junior or house colours in four areas: sport, culture, academia or for representing the school values.
Students who make an outstanding contribution to the entire school will also be able to earn their full colours, and will be able to wear a special version of the school tie. The light blue stripe has been added to reflect the idea of earning a blue at university, and the school's high expectations for its students.
Headteacher, Patrick Farmbrough commented: "We can't wait to roll out these systems and introduce a rich programme of events for students across the school."

---
Orchard Park takes part in a virtual choir
Former Stone Roses keyboardist Nigel Ipinson-Fleming is leading weekly virtual choirs for Orchard Park High School students and their families. Students are taking part in online singalongs with the musician in a bid to lift spirits during the coronavirus lockdown.
Nigel, who recorded and toured with the iconic indie 90s band on their Second Coming album, starts with a pre-recorded vocal warm up and song rehearsal before leading a 15-minute singalong hosted on YouTube and Instagram. Students are provided with recordings of backing tracks which they can download prior to the performance and singalong.
Nigel said: "I am delighted to continue to support choirs across the Greenshaw Learning Trust's schools, by moving our sessions into the virtual world. Group singing provides people of all ages and abilities the opportunity to use music to improve their wellbeing and develop good emotional health and resilience. Despite the separation of the young people, we know that we are joining together to celebrate music."
---
Yate Academy supports NHS workers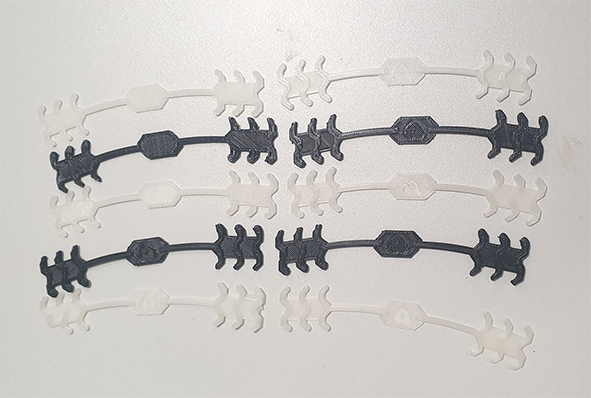 During this period of lockdown, Yate Academy has a number of students who have parents that work in the care industry. One of its Year 7 students, Harriet Blackett, whose parents both work on the frontline for the NHS, was acutely aware of how challenging this time has been for key workers.
Keen to help, she came to the design technology team at school and asked whether some ear-savers could be made, as this was one piece of kit that they didn't have. With Harriet's help and Mr Baker's design skills, 30 were quickly designed and 3D printed and shipped off to Harriet's parents and their colleagues, with more following. Such an innocuous item has actually saved hours of discomfort for many of our NHS workers and came from the kindness of a fantastic young lady.