News from across our primary schools
Talk Tuesdays at Crown Wood Primary

Crown Wood Primary School children have been developing their oracy skills during the last academic year, after training from Voice 21. These skills cover four key areas: physical, cognitive, linguistic, and social and emotional. Developed oracy skills will equip them with practical tools and approaches to support them to develop a culture of high-quality talk in their classrooms and beyond.
During lockdown, the children have all been taking part in Talk Tuesday. Children in the school produce videos introducing the theme, which are then uploaded onto Edmodo. They provide ideas about how to make sentences and talk more interesting. The children are encouraged to use specific language to: discuss, debate, challenge, question and evaluate. Some of the themes they have discussed so far have been: spectators at sporting fixtures, the impact of lockdown on the environment, time spent on screens and walking to school.
The children have taken part with enthusiasm in these discussions, both in school and at home. They post their comments to each other on Edmodo and then explore them further with members of their family or their class groups. The aim is for the children to transfer these polished spoken sentences into their written work.
Talk Tuesday is now an integral part of the week at Crown Wood Primary School.
---
Rainbow reopens at Green Wrythe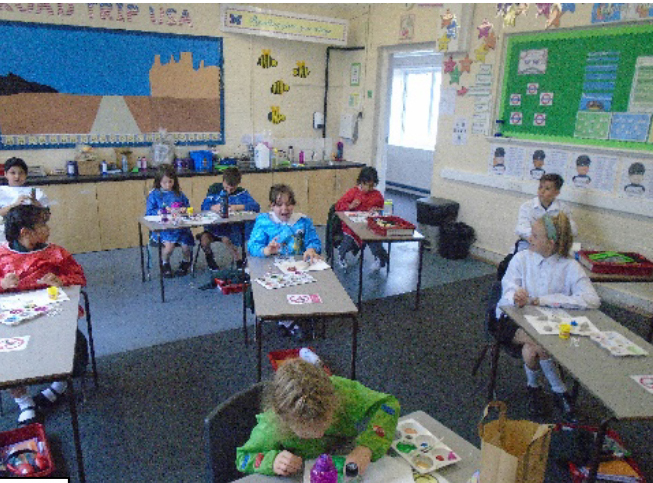 This summer term and the phased re-opening at Green Wrythe Primary School has been a testament to collaboration and support of all of the school's community. By working together, Rainbow has re-opened its doors to all children who have wanted to return to school (44 out of 57). The children and staff have been involved in a wide range of activities – there have been so many happy and engaged faces.
The Ark department has also increased the number of children in its hub, as well as welcoming back some of its Nursery, Reception, Year 1, Year 2, Year 5 and Year 6 children. Every available practical base has been used to ensure that children who wanted to come back were able to do so safely, with a wide range of activities on offer. At the same time, the teaching team continues to provide on-line and paper-based home learning platforms, which continue to be used by a high percentage of children.
Karen Jones, Headteacher at Green Wrythe, said: "We are all looking forward to a well-deserved rest over the summer so that we are ready for September's new normal."
---
Tweeddale playground has a facelift
Tweeddale Primary School has had its playground refurbished during the school closure. Using 301 tonnes of tarmac, the playground incorporates many new painted features to provide activities for the children. Many of these activities will support the children's learning – there is a number square and a number snake to help children in maths and a brand new phonics pond with different sounds to make learning phonics fun and interactive. A map of the British Isles and a compass pointing north, will engage children in geography. Staff are looking forward to seeing the children back in school in September and enjoying all the new activities.
Also during the pandemic, Sophie in Year 5 and Katie in Year 2 have been volunteering in the community. The school is very proud of the girls and what they have achieved.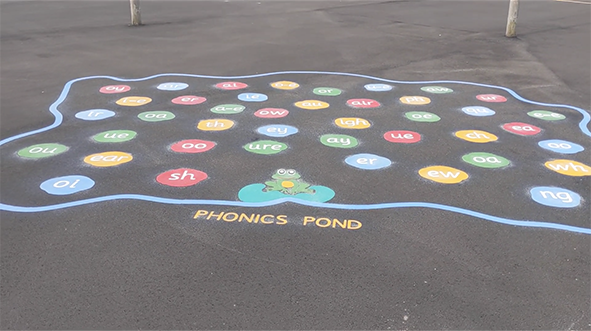 ---
Tyndale celebrates success
As Tyndale Primary School nears the end of its first year as part of the Greenshaw Learning Trust, staff would like to say a massive thank you to all GLT schools, colleagues and leaders who have helped the school in its journey so far.
Kirsty Borrill, Headteacher at Tyndale, said: "We are immensely proud of our children and staff, who have consistently risen to the high expectations we have set them. We are looking forward to building on this success in September. The children at Tyndale really are amazing; ambitious, resilient, and enthusiastic."
The school has much to be proud of in recent months: Maisie, in Year 3, won the National Rainbow writing competition award recently. The author running the competition, R A Powell, will be paying the school a visit to congratulate Maisie in September and meet some more Tyndale children. Millie, in Year 5, spent much of her topic home learning sessions achieving her Blue Peter badge. Tyndale Primary School achieved an impressive 97% engagement in home learning throughout the school closure period.
---
Learning at Victor Seymour
Children at Victor Seymour Infants' School have been excellent at engaging with their home learning. Year 2 children have been busy investigating their family tree, writing poetry, drawing sharks and dolphins and producing some amazing science work.
The children that have returned to school have been exemplary in following the new one-way systems and the instructions from teachers on all the new things that have to be done in school to keep children and staff safe. They have also had fun with their learning. Some children have spent afternoons outside sketching and reading. Following Mrs Matt's recent assembly about being proud, they brainstormed some ways about being proud of themselves. Nursery children have had lots of creative activity: painting, making hats and taking turns in the role play area.
Helen Matt, Headteacher at Victor Seymour, said: "I continue to be thankful to all the staff who have done the most amazing job, both with home learning and teaching children back in school. It has been great to welcome more children back and they have been thrilled to see their teachers and friends again. I am sorry that we could not do this for all the children."
---
Wildmoor Heath embraces outdoor learning
Wildmoor Heath has welcomed back around half the school in a calm and controlled environment. Its learners have been enthusiastic to return progressively over the weeks. The school has taken every step to protect children's mental and physical health and to help them rebuild relationships during the past three months.
An important part of this reintegration has been outdoor learning at every opportunity. Every bubble group has enjoyed sessions with the Forest Schools teacher, either out on the local heath or in The Haven (the school's purpose built forest-school style area with wildlife pond). Sessions have included pond cleaning, fire setting, shelter building, marshmallow toasting and making smores, hazel whittling and free play in the mud kitchen/stage areas.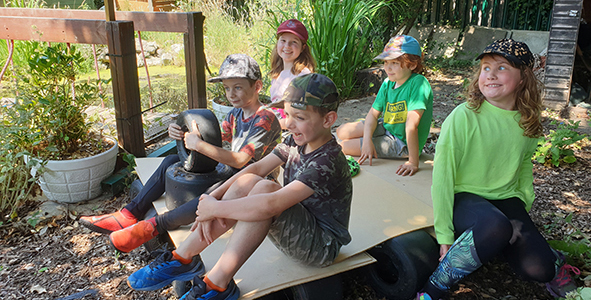 ---
Team spirit at Woodlands
At Woodlands, the school has been focusing on engaging with its community this academic year. With the COVID-19 pandemic, this has presented them with many challenges, but also some opportunities to do things differently. For example, staff have been very impressed with how many of the children have extended their learning at home. Staff wanted to find a unique way to celebrate and recognise the efforts that the children had made and created the 'Above and Beyond' Headteacher's video message. Teachers nominate children for a variety of outstanding learning efforts and they receive an individual video message. These have been really well received by both children and parents.
As staff, they have also been proud of the 'Team Woodlands' performances that they have worked on this year to engage the community. From the staff pantomime in December and 'A Million Dreams' signed song, to a 'We'll Meet Again' photo collage, staff have enjoyed developing their sense of team spirit. The most recent performance was a dance collaboration based on 'We're in this together '. As the image below shows, on a wet Friday afternoon, members of staff gathered together to learn and perform a short routine.
Rachel Dean, Headteacher at Woodlands, said: "We can't wait to welcome all the children back to Woodlands in September, and hope that we can still continue to develop great links to our community."